Hutchison Telecommunications Lanka has joined Hatton National Bank (HNB) as a payee partner, providing HUTCH subscribers the convenience of carrying out transactions through the banking giant's sophisticated network of digital channels.


This partnership enables HUTCH customers to make payments and reloads, both of which are updated in real time. For this purpose they can use HNB Internet Banking on the Bank's web portal or HNB Mobile Banking, which includes the mobile application, mobile website, USSD (with any phone) and SMS facilities. Subscribers are required to register for Internet/mobile baking and this can be done by walking to any HNB branch. Once the registration is done subscribers will receive the passwords and instructions on how to register and pay bills etc...


HUTCH has increased its focus on internet and mobile banking due to the increased use of internet / smartphones across Sri Lanka and the lifestyles of its target market which revolve around mobile and internet usage. HNB, as the premier private sector bank in Sri Lanka and an innovator in the banking industry providing three different types of reload facilities, namely internet, mobile and ATM, was a natural choice for HUTCH as a partner for this initiative. Building on from this collaboration, HNB and Hutch have planned several joint promotions in the months ahead.


Hutchison Telecommunications Lanka is part of the Hutchison Whampoa Limited ("HWL") group, a Global Fortune 500 conglomerate. The telecom arm of HWL is a pioneer in advanced 3G operations with a strong presence in Europe including UK, Italy, Ireland, Denmark, Austria and Sweden, and in Australia and Asia including Hong Kong, Macau, Vietnam, Indonesia and Sri Lanka. It popularly operates under the brand '3' in most regions.


Hatton National Bank is a premier private sector commercial bank with a network of 250 customer centres spread across the length and breadth of Sri Lanka and caters to all segments of the market through its diverse product and service offering. The Bank is also involved in insurance and capital market operations in the country through its group companies. During 2013, HNB's asset book surpassed Rs 500 Bn, while the Bank recorded a pre-tax profit of over Rs.10Bn for the year. Hatton National Bank has been awarded by the Asian Banker Magazine as the 'Best Retail Bank in Sri Lanka' for six consecutive years for its performance from 2007 to 2012 and named as the 'Bank of the Year in Sri Lanka' for the year 2012 & 2013 by the Banker Magazine of UK. In 2012 HNB became the first Sri Lankan bank to obtain an international credit rating and was assigned a foreign currency issuer rating of B1 on par with the sovereign rating by Moody's Investors Service, while it has a national long term rating of AA- (lka) by Fitch Ratings (Lanka) Ltd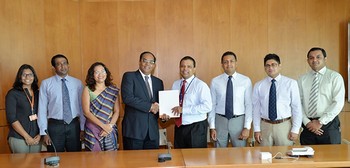 The Managing Director/CEO of HNB, Jonathan Alles exchanging the agreement with Mr Thirukumar Nadarasa, CEO, Hutchison Telecommunication. (from L-R) Savani Dissanayake, Assistant Manager, Postpaid Operations, Melroy Thomas, Manager - Recharge, Ramzeena Lye, Head - Sales & Marketing of Hutchison Telecommunication, Thimal Perera, Deputy General Manager - Retail & SME Banking, Mangala Wickremasinghe, Head of Cards & Electronic Delivery Channels, Sandun Hapugoda, Manager - Electronic Banking & Corporate Sales of HNB.