HNB MOMO and 3Wheel Lanka (Budget Taxi) have formed a mutually beneficial alliance, in what could only be described as the most significant moment in recent history of Sri-Lankan transportation industry. 3Wheel Lanka has incorporated this new-age technology, paving the way for a future of cashless convenience.


HNB recently made history with its revolutionary unveiling of "HNB MOMO", becoming the first bank in Sri Lanka to introduce the mobile POS technology to local businesses. HNB MOMO utilizes EMV technology enabling secure chip-based card acceptance, therefore, it provides equal opportunities and a low-cost mobile point of sale solution for large retailers, micro-level vendors and even professionals. While the merchants are able to accept debit and credit card-based payment transactions using their Smartphones, the overall benefit the community derives from this new technology is a whole new level of convenience. The customers are free from "cash only" restrictions and it's certainly a fresh break from the days of standing in long queues or slow checkout counters. HNB MOMO, the market leader's solution consists of a lightweight software application and a portable MOMO unit; merchants with Smartphones, which runs on Android, iOS or Java platforms are able to have the software application installed, while the portable unit would have to be connected to the audio jack of the phone during a transaction. The cardholder has the option of receiving a digital receipt as payment confirmation or an e-mail of the full receipt with the signature.


Throughout its illustrious 125 years, Hatton National Bank has continued to raise the bar and it has garnered a reputation for its endless quest towards innovation; constantly reinventing itself and modernizing its products and services to provide a better customer experience. The introduction of MOMO complements a heritage built on innovation, while ushering in a new era of cashless convenience and card-based payment acceptance.


On being interviewed, Mr. Kalum Jayasumana - Managing Director of 3Wheel Lanka stated that, "We are into the business of moving people", having started our operations in 2009 and today we are the market leader, with over 500 Nano cabs and 500 Three Wheelers with well trained staff currently providing services in Colombo , Kandy and Kalutara. He further stated that this is not the first time that they have taken leadership in this space, 3 Wheel Lanka was first to introduce Meter Three-wheelers to Sri-Lanka.
Mangala P Wickramasinghe, Head of Cards & Electronic Delivery Channels of Hatton National Bank stated that "Being the market leader in payment card acquiring business we are very happy to partner with the bigger players in people transportation business to introduce this innovative solution to commuters of 3 Wheel Lanka". He further stated that Mr. Kalum Jayasumana is a visionary in the business of moving people and his leadership has helped in changing the landscape of Sri-Lankan transportation industry.
With HNB MOMO, the 3Wheel Lanka (Budget Taxi) can now serve over 12 million Sri-Lankans who hold Debit & Credit cards. This opens up a whole new world of convenience and safe payments for the customers of Budget Taxis.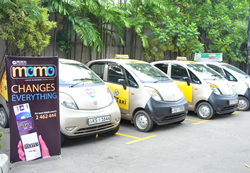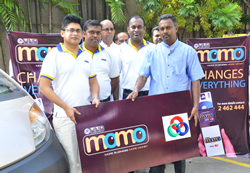 Mangala P Wickremasinghe, Head of Payment Cards & Electronic Delivery Channels - HNB exchanging the agreement with Kalum Jayasumana Managing Director of 3Wheel Lanka.