HNB's Islamic Banking Unit offering 'Al Najah' was adjudged the 'Emerging Islamic Finance Entity of the Year' at the 3rd Annual Sri Lanka Islamic Banking and Finance Industry (SLIBFI) Awards ceremony organized by Uto Edu Consult at Hotel Galadari recently. This is the only local awards programme that recognizes significant contributions by institutions as well as individuals to the Islamic Banking and Finance industry in Sri Lanka during the year.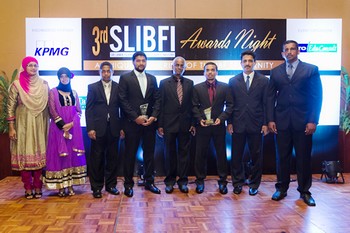 The team behind HNB Al Najah along with AGM Corporate Banking - Arjuna Ratnasabapathy and Head of Islamic Banking - Hisham Ally


At the awards ceremony, Salmaan Nasir, Executive Credit of HNB Al-Najah was also declared as 'The Rising Islamic Finance Personality of the Year'.
Commenting on the two gold awards Jonathan Alles, Managing Director / CEO of Hatton National Bank PLC stated that "We are honoured to be recognized with this prestigious award which is a testament to the remarkable performance of our Islamic Banking business with less than two years in operation. This award was made possible due to the untiring efforts of our team, their dedication and commitment to the cause and also the confidence placed on HNB by our valued customers. We are very pleased that Salmaan Nasir, one of our Team members received 'The Rising Islamic Finance Personality of the Year' in recognition of his contribution to HNB Al Najah during this short period of time".
HNB 'Al Najah' launched in 2012, offers a range of Shariah compliant products and services to cater to the requirements of Retail, SME and Corporate segments of the market. Clients may avail these services through our network of 250 branches while the operation is centralized at head office to ensure seamless delivery.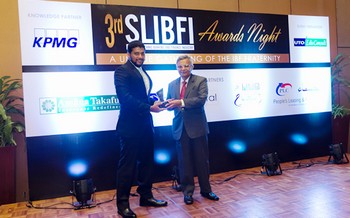 Salmaan Nasir of HNB Al Najah receiving the Rising Islamic Finance Personality of the Year Award from Shibly Aziz, President's Counsel
Hisham Ally Head of Islamic Banking added "with our comprehensive product range, continuous focus on innovation, superior technology platform and expertise in structuring Islamic banking products and services, we are confident of reaching the pinnacle in this business segment in the near future".
Al-Najah is the fully fledged Islamic Banking Unit of Hatton National Bank PLC, which was recognized as the 'Bank of the Year in Sri Lanka' for 2012 and 2013 by the Banker Magazine of UK and as the 'Best Retail Bank in Sri Lanka' for six consecutive years by 'The Asian Banker Magazine'.