Hatton National Bank (HNB) consolidated its position as the bank with the widest network of ATMs in Sri Lanka with the opening of its 417th ATM at the Head Office of premier blue chip company, Ceylon Tobacco Company PLC.
The latest step in HNB's Smart ATM network expansion drive brings a host of value added services and offers great convenience to the employees of CTC. The ATM was officially declared open by Mr. Jonathan Alles, Managing Director / CEO of HNB and Mr. Felicio Ferraz Managing Director / CEO of Ceylon Tobacco Company.
Through the new ATM, HNB customers can pay electricity, water, phone bills and do many other transactions including HNB Credit Card bill payments, fund transfers among HNB accounts etc.
The bank currently maintains 345 on-site (at customer centre premises), and 72 off-site ATMs spread across the island in keeping with its constant focus on customer care and island-wide accessibility. The total of 417 includes two drive-thru ATMs located at the Bank's Head Office at HNB Towers and its Priority Banking Centre at Greenpath. The HNB ATM network caters to the bank's own debit and credit card holders, all VISA, MasterCard, credit and debit cardholders in Sri Lanka and to tourists.
Founded in 1932 and headquartered in Colombo, CTC is a subsidiary of the British American Tobacco group and is one of the largest companies traded on the Colombo Stock Exchange. HNB, the premier private sector commercial bank in Sri Lanka, was recognized as the Bank of the Year in Sri Lanka for the years 2012 and 2013 by the Banker Magazine UK. It was also named the Best Retail Bank in Sri Lanka by the Asian Banker Magazine for six consecutive years from 2008 to 2013.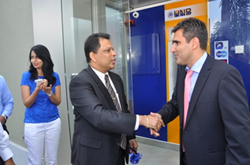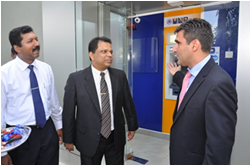 Mr Jonathan Alles, Managing Director/CEO, HNB and Mr. Felicio Ferraz Managing Director/CEO of Ceylon Tobacco Company opening the 417th ATM at CTC premises. Mr Balakrishnan Giritharan, Manager, HNB Kotahena Customer Centre is also in the picture.