Hatton National Bank PLC, the premier private sector commercial bank in Sri Lanka, recently financed Softlogic Group's strategic investment in the leading fashion brand ODEL, enabling the conglomerate to further strengthen its presence in the apparel and fashion accessories market.
Softlogic purchased the shareholdings of Otara Gunawardene, and brothers Ajith and Ruchi Gunawardene (press release in Lanka Business Online indicates Ruchi Gunawardena too) in ODEL in a groundbreaking transaction, which gives the Group 45% ownership in ODEL, paving the way for it to assume control of the fashion retailer. The funding was provided as part of HNB's corporate strategy of supporting local corporates and entrepreneurs to realise their full business potential.
In his vision, Softlogic Group Chairman Ashok Pathirage has focused on the conglomerate becoming one of the leading retailers in the country while being the single largest franchisee of some of the most reputed international brands in the apparel and fashion accessories market in Sri Lanka. The acquisition of ODEL gives Softlogic significant lead to retail its multinational brand portfolio through ODEL, an immensely popular fashion chain. Following this transaction, Softlogic is required to make a mandatory offer to repurchase shares from other shareholders of ODEL under SEC rules.
Mr. Pathirage commended HNB Managing Director / CEO Mr. Jonathan Alles and the Bank for being supportive of the deal. "Local banks such as HNB have traditionally been our partners, and, with this transaction, HNB has taken a bold step in the right direction. Such a transaction would certainly take a conglomerate like Softlogic to new heights and open exciting portals in those business frontiers where higher earning potential and value creation become not only possible but inevitable in a growing economy."
HNB CEO, Mr. Jonathan Alles outlined the reasons which led HNB to finance a sizeable and high profile transaction of this nature. "It was an ideal opportunity to demonstrate the Bank's commitment to the Softlogic Group, a valued relationship to the Bank. This acquisition is a milestone achievement and we take considerable pride in ensuring that local entrepreneurs who are farsighted and visionary are supported fully. Therefore, the value and benefit delivered to all parties through the successful execution of this transaction is, rewarding for the Bank."
Hatton National Bank's corporate banking division provides innovative and integrated financial solutions that meet the needs of all businesses in Sri Lanka. The Bank is one of largest project and working capital financing providers in the country and supports corporates with a full suite of products to aid and assist in the continued growth and operation of their client's businesses.
Hatton National Bank PLC is a premier private sector commercial bank with a network of 250 customer centres spread across the length and breadth of Sri Lanka and caters to all segments of the market through its diverse product and service offering. The Bank is also involved in insurance and capital market operations in the country through its group companies. During 2013, HNB's asset book surpassed Rs 500 Bn, while the Bank recorded a pre-tax profit of over Rs.10Bn for the year. Hatton National Bank has been awarded by the Asian Banker Magazine as the 'Best Retail Bank in Sri Lanka' for 6 consecutive years for its performance from 2007 to 2012 and named as the 'Bank of the Year in Sri Lanka' for the year 2012 & 2013 by the Banker Magazine of UK. In 2012 HNB became the first Sri Lankan bank to obtain an international credit rating and was assigned a foreign currency issuer rating of B1 on par with the sovereign rating by Moody's Investors Service, while it has a national long term rating of AA- (lka) by Fitch Ratings (Lanka) Ltd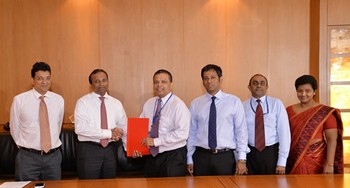 The Managing Director/CEO of HNB, Mr Jonathan Alles exchanging the agreement with Mr Ashok Pathirage, Chairman, Softlogic Group. (from L-R) Mr Hiran Perera, Head of Corporate Finance and Treasury, Softlogic Group, Mr Ruwan Manatunga, Head of Corporate Banking/Assistant General Manager - Corporate Banking, HNB, Mr D S L Ferdinando, Chief Manager - Corporate Banking, HNB and Ms Dilunika Jayasinghe, Senior Manager - Project Finance, HNB.