In response to the prevailing drought in the Polonnaruwa district, Hatton National Bank (HNB) recently donated 50 (1000 litre) water tanks to the district, providing thousands of people much needed access to clean drinking water.
The tanks have been placed in densely populated areas in Medirigirya and Dimbulagala in order to benefit people suffering from a scarcity of hygienic drinking water due to the drying up tube wells and public wells. This donation has provided immense relief to these people who have undergone enormous physical and mental stress over the past few weeks.
The distribution of tanks was organized by the HNB Polonnaruwa Customer Centre under the HNB Sustainability Foundation, the sustainability & CSR arm of HNB, which has four pillars including Health, Education, Entrepreneurship and Environment. This project is the latest in HNB's long history of responsible corporate citizenship.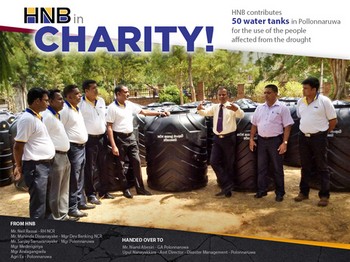 Donation of water tanks in the Polonnaruwa area by officials of the bank. (L-R) W T L Weerasinghe, Agri Executive, Polonnaruwa Customer Centre, Wasala Mahagirilla, Manager, Aralaganwila Customer Centre, Sanjaya Samaranayake, Manager, Polonnaruwa Customer Centre, W M M Dissanayake, Manager, Development Banking, North Central Region, Neil C Rasiah, Regional Head, North Central Region, Nimal Abeysiri, District Secretary, Polonnaruwa District, Upul Nanayakkara, Asst. Director of Disaster Management, Polonnaruwa District and R H D N Karunarathne, Manager, Medirigiriya Customer