Life time guaranteed monthly pension for everyone over 55 years. 


HNB Assurance has identified a primary need of the elderly citizens of our country and has introduced a Guaranteed Monthly Pension Plan named 'my pension' for those who seek a peaceful and contented retirement, becoming the first insurance company in the country to do so. This unique product is being offered in collaboration with its parent company, Hatton National Bank, which will market this product island-wide through its branch network.
'my pension' was launched at a media conference recently by the Chairperson of HNB & HNB Assurance Dr. Ranee Jayamaha along with HNB Managing Director Jonathan Alles and HNB Assurance Managing Director Manjula de Silva. At the media conference it was highlighted that, having the financial strength to support your retirement is a blessing to look back and enjoy a lifetime of achievements, and be proud of your financial independence. The product was presented as the ideal solution to the need of retirees who are looking to secure a fixed monthly income for life in exchange for a lump sum investment, without being affected by interest rate fluctuations.
As its main feature my pension gives you a guaranteed monthly pension for life. In addition, a life cover will be in effect in the event of demise of the policyholder within the first 10 years. At the point of entry the Company commits a monthly pension value for you which you will continue to receive throughout your life irrespective of interest rate fluctuations. my pension is a single premium policy where you can pay the premium at once and enjoy monthly pensions for the rest of your life, regardless of how long you will live. In order to obtain a my pension retirement plan you need to be within the entry age 55 to 80 & pay an initial investment for the single premium in the value range of Rs. 1 Million to 25 Million.
For instance if you are 55 years of age and have invested 5 million rupees you will receive a monthly pension of Rs. 41,750 (Annual pension will be Rs. 501,000) plus a life cover of Rs. 5,500,000 less total monthly pensions paid up to death. This monthly pension will be paid for as long as you live. The monthly pension will vary on the one time initial investment that you have paid. The other remarkable feature of this pension plan is that if you buy it at an older age, the pension you will receive will be more. For instance, a person aged 65 investing Rs. 5 Million will receive a monthly pension of Rs. 43,750 (Annual Pension of Rs. 525,000) with the same life cover for 10 years.
'My pension' can easily be obtained from any of the 51 HNB Assurance branches that are located Island wide or from any of the 175 HNB branches where bancassurance counters of HNB Assurance are located. Customers can also call the dedicated 24 hour hotline on 0114 883 883 to get more details or visit the Customer Service Center located at 51A, Dharmapala Mawatha, Colombo 3.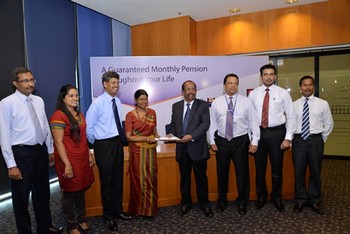 Dr Ranee Jayamaha, Chairperson, HNB/HNB Assurance. Presenting the first policy to Deshamanya S. Dayalan, Chairman, Naveen Ceramics
(From left) Mr Prashantha Fernando, General Manager – Life, HNB Assurance, Ms U K Silva, Assistant Financial Services Manager, HNB Assurance, Mr Manjula de Silva, Managing Director/CEO,HNB Assurance, Mr Jonathan Alles, Managing Director/CEO, HNB, Mr Kalum Wijesooriya, Assistant General Manager - Remittances & Foreign Currency Deposits, HNB and Mr Hemantha Liyanage, Regional Manager - Colombo North, HNB Assurance are also in the picture.