Hatton National Bank the premier private sector commercial bank in Sri Lanka recently launched the HNB Hire Purchase scheme to serve buyers of registered vehicles with a number of value additions.
In September 1990, HNB became the first private bank to introduce Leasing. Since then, the Bank's leasing business has grown steadily with HNB being maintaining its leadership position among banks in leasing.
HNB will consider Hire Purchase facilities for motor vehicles after one year of the first registration of such vehicles. The scheme enables customers to enjoy a number of value additions such as a HNB credit card free of joining fee and a free life insurance cover of Rs.1.2 Mn when the motor insurance cover is taken from HNB Assurance. The customers will have the opportunity of obtaining the facility at the lowest interest rates through 250 HNB customer centers island wide.
Dilshan Rodrigo, Chief Operating Officer of HNB mentioned during the launch ceremony that the scheme will provide benefits to the customers who purchase registered vehicles which include cars, vans, dual purpose vehicles and suv's. The scheme will be attractive to professionals, salaried employees, corporate customers and small and medium enterprises he reiterated.
HNB was awarded as the Bank of the Year in Sri Lanka for the years 2012 and 2013 by the Banker Magazine UK and also was named the Best Retail Bank in Sri Lanka by the Asian Banker Magazine for six consecutive years from 2008 to 2013.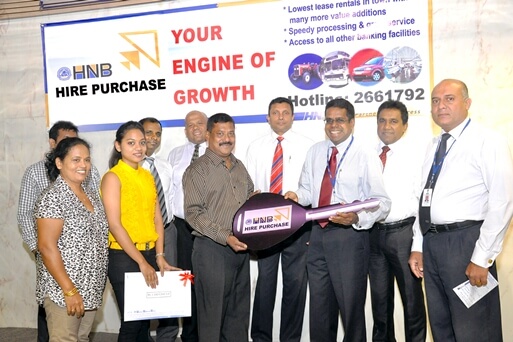 Mr Dilshan Rodrigo, Chief Operating Officer, HNB handing over the key to the first HNB Hire Purchase customer, Mr. Ipalawatta Ariyasena. Also in the picture (From left to right) Mrs. K Ipalawatta, Mr Debadatta Behera, Associate Project Leader – Odessa Technology India, Ms. N A Ipalawatta, Mr S. Nandakumar, Senior Manager Operations, HNB Head office Branch, Mr Asitha Fernando, Relationship Manager, HNB Head Office Branch, Mr Kanchana Karunagama, Manager - Leasing, HNB, Mr R M P Dayawansa, Assistant General Manager – Personal Financial Services, HNB and Mr Jeewantha Perera, Manager - Lease Business Development, HNB.