Hatton National Bank and Employees' Provident Fund streamline EPF Payment transactions in Sri Lanka
Hatton National Bank recently signed an agreement with Employees' Provident Fund Department of the Central Bank to streamline the EPF payment system through HNB's newest product, HNB PAYFAST. Through HNB PAYFAST, EPF payments can now be made directly to the relevant Department.
HNB PAYFAST is an internet-based payment system which enables you to initiate transactions from the convenience of your own office premises or from any location of preference. It is a solution which removes the complications related to all business and personal payment transactions. You can now perform multiple transactions such as employee wages, supplier credit and internal fund transfers by simply debiting your own HNB account and crediting the relevant accounts at HNB or any other commercial bank. Similarly, all businesses who sign up for HNB PAYFAST can now automate their EPF payments by significantly reducing the tasks on their payroll division.
HNB PAYFAST does not require any software installations, instead installation is initiated through a file format or a system provided template. Through this new introduction over 7,000 registered employers contributing to EPF who are customers of HNB will be able to make payments on a timely manner without the hassle of paper work. The electronic submissions made through this system will help update EPF member accounts faster and accurately and help release refund benefits without delays.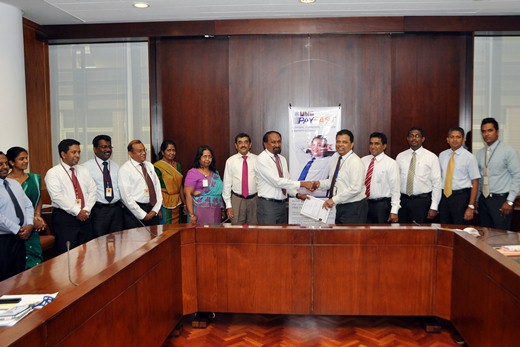 Picture shows Mr P W D N R Rodrigo, Superintendent of Employees' Provident Fund, Central Bank of Sri Lanka exchanging the agreement with Mr Jonathan Alles, Managing Director/CEO, HNB in the presence of Deputy Governor, Central Bank of Sri Lanka, Dr N Weerasinghe and Assistant Governor, Central Bank of Sri Lanka, Ms Rupa Dheerasinghe.