Airtel and HNB Commercially Launch Sri Lanka's First NFC System with E-Bus Ticketing
• Airtel, HNB and Sony Felica partner to provide Sri Lanka's first Near Field Communication system
• NFC enabled bus ticketing machines to be first step in process of making life easier for customers
   island wide
• 225 long distance buses to be NFC enabled as an initial step


Bharti Airtel Lanka along with Hatton National Bank (HNB), Sony Felica and the Matara Passenger Transport Company Ltd today commercially launched Sri Lanka's first NFC (Near Field Communication) enabled multi-functioned payment system.
This payment system will be available on 'HNB One Card', the pioneering NFC enabled payment card launched in December 2013. with the provision of the e-bus ticketing facility, HNB becomes the first bank to deploy such a service commercially in Sri Lanka.
The connectivity technology for the complete system will be energized by Airtel through Airtel Lanka Enterprise Solutions. The NFC connectivity system will add to the list of innovative global enterprise solutions that Airtel has introduced to Sri Lanka such as IPLC and vehicle tracking systems.
The launch of the NFC system took place in Matara under the patronage of the Ambassador of Japan to Sri Lanka Nobuhito Hobo, the Minister of Investment Promotion Hon. Lakshman Yapa Abeywardena, Minister of Youth Affairs and Skills Development Hon. Dullas Alahapperuma, Member of Parliament Sanath Jayasuriya, Mayor of Matara Sosindra Handunge, SSP Matara Police Deshabandu Tennakoon, Southern Provincial Councillor Kanchana Wijesekera, Chairman of the Southern Province Road Passenger Transport Authority A. Samarasinghe and other invitees from the organizations involved.
The NFC enabled systems will be used in 225 long distance buses belonging to the Matara Transport Passenger Company. The card uses a simple "tap and go" method and passengers would have the convenience of travelling on these buses without the hassle of carrying cash with them. The first step in a long process of greater customer convenience, the system will soon be available for ATM transactions, transport facilities island wide, toll stations at the two currently functioning expressways, drive-thru food outlets, supermarkets and fuel stations.
Collaborating as the total connectivity partner throughout the entire project, Bharti Airtel Lanka
Chief Executive Officer/Managing Director, Suren Goonewardene stated, "As an organization that changed the landscape of telecommunications in Sri Lanka, it has always been Airtel's ethos to change the ways in which businesses operate. By being the exclusive connectivity partner of this project we are once again going to create history by changing the landscape in which public transport operates, for the betterment of every Sri Lankan."
He also added "being part of the fourth largest telecommunication operator in the world in terms of subscribers, Bharti Airtel Lanka has the capability and capacity to bridge technological gaps and introduce the latest, global technologies to Sri Lanka. This project is the first of many more related projects to be launched by Bharti Airtel Enterprise Solutions. For Bharti Airtel Lanka, being associated with this venture is in line with our constant endeavor and commitment to introduce services that are current, innovative and relevant for customers. While we believe that this will contribute positively towards the development of the national infrastructure and economy in Sri Lanka we hope all Sri Lankans would reap the benefit from this venture as we strive to enrich their lives with modern technology and convenience."
Dilshan Rodrigo, COO, HNB noted: "I'm absolutely delighted to partner Airtel and Sony Felica in this ground breaking initiative that will set the stage to transform the lives of Sri Lankans who commute by buses daily. This is yet another step for HNB in the electronic Banking space and HNB One will complement many innovations including Mobile banking, HNB "MOMO", Internet and Mobile Banking and Pay Fast introduced in the recent past in the retail banking sphere."
Mangala Wickramasinghe – Head of payment cards & electronic delivery channels of HNB stated that all Sri Lankan's could be proud of this commercial launch of e-bus ticketing in public transportation. He added that the solution used in this is second to none of the solutions adopted in Europe & Asia. Sony Felica technology powered "HNB One" prepaid combined card will facilitate smooth & secure ticket generation as well as any other Point Of Sale (POS) transaction. Mr. Wickramasinghe further highlighted that several value additions to commuters have been implanted with the e-bus ticketing, including a travel insurance coverage. He concluded saying that this is another important project in HNB's efforts to contribute in the tech banking space to create value to its customers and general public.
Aruna Halpage, President, Matara Passenger Transport Company Ltd noted: The nation is experiencing rapid growth under the vision of H.E. President Mahinda Rajapaksa. Therefore the launch of this service provides great convenience to commuters and my Association deeply grateful to all the partners who have come on board for this timely initiative."
Sony FeliCa in their message stated "The SONY Cooperation FeliCa Division is excited to be able to reach the people of Sri Lanka through HNB's latest product NFC Debit card Known as "HNB One". We are sure it is the first in South Asia if not first in Asia. Today where ever you go in the world's leading capitols cities whether at train stations or bus stations or at convenient stores , you will see people enjoying the ease of making payments."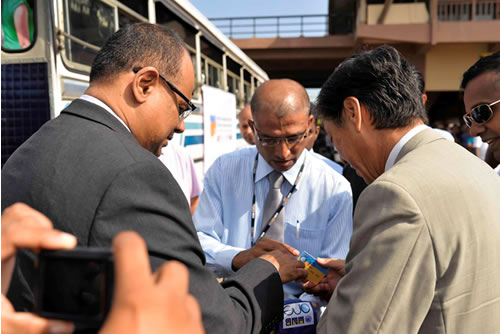 The Ambassador of Japan to Sri Lanka Nobuhito Hobo purchasing the first ebus ticket at the launching ceremony of the NFC system 'HNB One' Card held in Matara.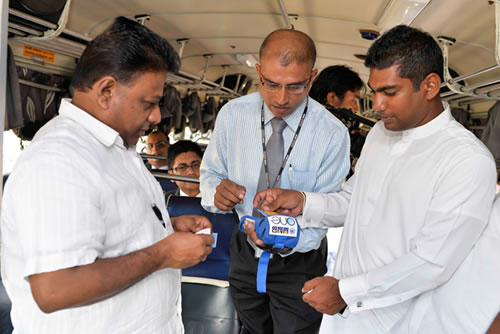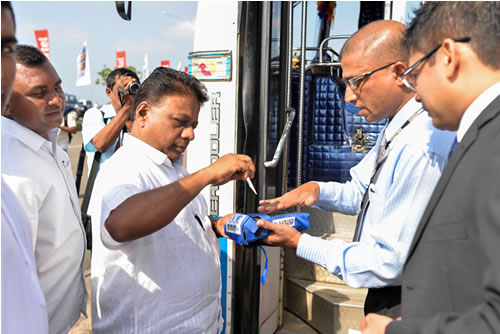 The Minister of Youth Affairs and Skills Development Hon. Dullas Alahapperuma purchasing the first ebus ticket at the launching ceremony of the first NFC system ebus ticketing from the Matara Passenger Transport Company. Mr Aruna Halpage, President, Matara Passenger Transport Company Ltd and Mr Mangala Wickramasinghe, Head of Payment Cards & Electronic Delivery Channels of HNB are also in the picture.