SRI LANKA ISLAMIC BANKING AND FINANCE INDUSTRY AWARDS NIGHT 2013
Hnb Al-Najah Islamic – Silver Award Emerging Islamic Finance Entity Of The Year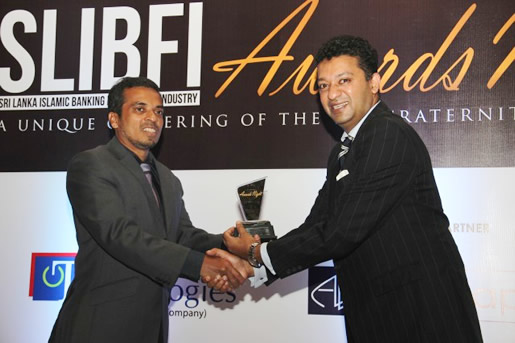 Hisham Ally - Head of Islamic Banking, HNB receiving the Silver Award for the Emerging Islamic Finance Entity of the year from Mafaz Ishaq - Director, Calamander Capital Ltd (Singapore)


HNB Al-Najah Islamic Banking Unit won the Silver Award for Emerging Islamic Finance Entity of the Year at the SLIBFI Awards Night held on the 23rd of October 2013.

In his acceptance speech Mr. Ally who has been involved in Islamic Banking and Finance arena for over 16 years commended the team for their tremendous support and hard work in making the award a reality. He also thanked the consultants ADL Capital Limited for the services provided in setting up the Unit.

"Al Najah", was launched by the Bank on 27th February 2012 to serve its Islamic banking clients with a special banking unit located at the Bank's head office at HNB Towers, supported by a team that is both well trained and experienced in the area of Islamic banking. The unit operates under the overall supervision of the Bank and is also overseen by the Shariah Supervisory Board. Though centralized at the head office, the Islamic Banking Unit enables customers from across the Bank's network to efficiently operate with seamless integration through the Bank's core banking system.

Within a very short span of 10 Months, the Islamic Banking unit had made tremendous progress both in terms of growing its balance sheet as well as breaking even. The unit exceeded expectations in terms of growth fueled by customer confidence and demand which in turn enabled it to distribute some of the highest profits on its investment accounts in December 2012.

The focus in going forward will be to ensure that every facet of the operation is embraced innovatively. The Unit will be looking forward to embrace technology and make interactions with the customer more conveniently whilst also ensuring that its service offer is on par with or supersede the service delivery of the conventional financial service providers. Al-Najah will look to dominate the marketplace through innovation, differentiation, service standards, and value creation.

Al Najah is the fully fledged Islamic Banking Unit of Hatton National Bank, Banker Magazine of UK's "Bank of the Year in Sri Lanka" for 2012 and the first Sri Lankan Bank to obtain an international credit rating by Moody's Investor Services.