Outward Bound Training (OBT) for HNB Student Managers in the Eastern Region.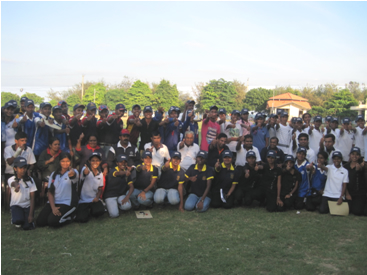 Hatton National Bank conducted an outward bound training for their Student Managers of Eastern Region on 22nd February 2013 at the Urban Council Grounds, Trincomalee. Over one Hundred Student Managers from Ampara, Kantale, Batticaloa & Trincomalee participated at the special training programme.

This outward bound programme for student managers of eastern region was specially designed to unleash the hidden potential, develop self confidence, leadership qualities, team building and effective communication and to promote a sense of community service and involvement in CSR activities. The programme was instrumental in developing a positive mindset while improving the capability and the need for proper empowerment among these student leaders.

The Programme was inaugurated by Mr R M P Dayawansa - Assistant General Manager of HNB, Mr.Vijendran - Zonal Director of Education, Mr S A Arumugam The HNB Regional Manager - Eastern Region, Mr.P M P Perera Deputy Executive Director- Sri Lanka Business Development Centre. The outward bound training programme was conducted with the assistance of Outward Bound Trust Sri Lankan in collaboration with the Sri Lanka Business Development Centre.

Following the successful implementation of the programme, student managers participated stated that it was a great opportunity to develop leadership, cooperation, patience and humanity through team activities.. The programme offered not only fun but equally a superb learning environment on many socio-cultural spheres. "We were able to identify our strengths effectively". said a student manager.

HNB initiated the school banking unit concept in 1994 mainly to inculcate the savings habit among school children. Since then the bank has established 166 school banking units across Sri Lanka where student managers who are groomed to take leadership in running a mini bank in his/her school get actively involved in teaching their fellow students the value of savings. HNB responsibly train 1000 student managers every year with programmes of this nature.