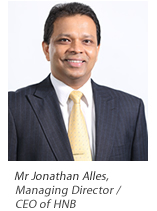 Hatton National Bank (HNB) Acting CEO and Executive Director, Mr Jonathan Alles has been appointed Managing Director/Chief Executive Officer with effect from 1st July 2013. Mr. Alles was the Deputy CEO from 23 November 2011 to 1st May 2013 and Chief Operating Officer from 1st Sept 2010 to 23rd November 2011 of HNB. Mr Alles holds a MBA from the University of Stirling, Scotland and is an Associate member of the Chartered Institute of Bankers, Sri Lanka.

Mr Jonathan Alles will be ably supported by Mr Dilshan Rodrigo who assumed duties as Chief Operating Officer of HNB from 1st May 2013. Prior to this Mr Rodrigo held the positions of Deputy General Manager - Retail Banking and Deputy General Manager- Risk and Credit quality at HNB. Mr Rodrigo holds a MBA from Cranfield University , UK and is a Fellow member of CIMA(UK) and ACCA(UK).

On assuming duties Mr Alles commented that he is honored and privileged to lead HNB with its rich heritage and is committed to take forward the ideals of this great organization leveraging the benefits of a resurging Sri Lanka, providing value to all its customers, shareholders and other stake holders.

HNB is the first Sri Lankan bank to obtain an international credit rating and has been assigned a foreign currency issuer rating of B1 on par with the sovereign rating of Sri Lanka.

Further HNB was adjudged the "Bank of the year in Sri Lanka for 2012" by the prestigious UK based Banker magazine,and is the recipient of the Best Retail Bank in Sri Lanka award for six consecutive years awarded by Asian Banker magazine.