HNB wins 'Bank of the year' award by 'The Banker' for the second consecutive year
HNB was once again recognized as the 'Bank of the Year in Sri Lanka' by the renowned 'The Banker Magazine for the second consecutive time. The Bank of the Year Awards is an annual awards event and this year the prestigious Bracken Award was received by Mr. Jonathan Alles Managing Director/CEO at a ceremony held at the Intercontinental Park Lane Hotel London, on 28th of November 2013.

Commenting on the award, Mr. Jonathan Alles stated "we are delighted to be recognised as the 'Bank of the Year in Sri Lanka 2013' by the prestigious 'The Banker' magazine. The key elements of our success have been our continuous strive for improvement, sound business strategies and prudent risk management approach. During the past year HNB has effectively leveraged on technology to support the business in terms of efficiency, centralization and analytics. The array of product initiatives during the year, especially in the arena of electronic and mobile banking has augmented the well spread brick and motar distribution network of 250 customer centres. Going forward we will continue to focus on these delivery channels for growth, which will also enable us to realize cost efficiencies".

He further added "HNB has strengthened its brand image as a 'safe and sound' bank and despite sluggish market conditions that prevailed during the year, we have outperformed the market through our alignment to the national vision as well as through strong management capabilities. Hence I believe that this is a tribute to the dedication and commitment demonstrated by the entire HNB team".

Banker Awards are adjudged by The Banker's editorial team and expressing her views on the selection of HNB as the 'Bank of the Year in Sri Lanka 2013', Jane Cooper Asia Editor of The Banker Magazine stated that 'Hatton National Bank has continued to perform well and has pushed ahead with its strategy. The judges were impressed with HNB's focus on building new fee business, executing a cost management drive and investing in technology'.

'The Banker' is a trusted source of global financial intelligence since 1926 owned by The Financial Times Ltd. The Bracken award is named after Brandon Bracken the founding editor of 'The Banker' in 1926 and the Chairman of Financial Times from 1943-1958. Winning the Bracken award is the ultimate accolade for the top performing financial institutions globally.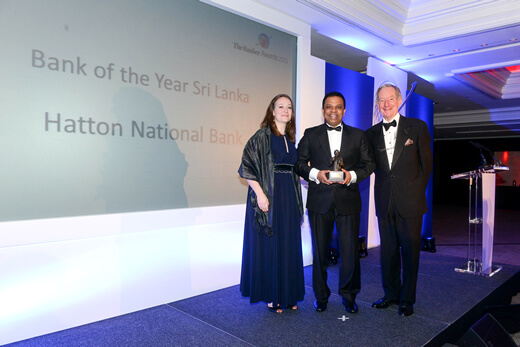 Mr Jonathan Alles Managing Director /CEO of HNB with the Bracken award, with Ms Jane Cooper, Asia Editor of The Banker (left) and former BBC journalist Mr Michael Buerk, the host of the awards ceremony(right).