HNB to pioneer next generation banking in sri lanka
Hatton National Bank, the premier private sector commercial bank in Sri Lanka hopes to pioneer next generation banking through a number of technology related initiatives. The bank has identified information and communication technology (ICT) as a key driver in the bank's progress and will take a number of steps to position itself as the leader in Tech-Banking in Sri Lanka in the years to come.

In this light one of the key areas of focus is multi channel banking through the use of technology which is going to make innovative changes in the banking landscape in Sri Lanka. As a first, the bank recently introduced a mobile banking platform that can be assessed by four different channels namely Mobile App, Mobile Web, USSD, and SMS. This gives the customer a range of applications to engage in mobile phone banking using a smart phone to a basic mobile phone.

HNB currently maintains the leadership position in the merchant acquiring business in credit/debit cards in Sri Lanka and to further reinforce this position the bank recently introduced a revolutionary mobile POS (Point of Sale) solution branded as HNB MOMO to promote "More Business More Money" for the targeted merchant.

Mr Mangala Wickramasinghe Head of Electronic Delivery Channels-HNB said there seems to be an overwhelming acceptance of the product where merchants now refer to POS solutions as "MOMO". Speaking further he said there is a heavy demand for MOMO devices at the moment. With Sri Lanka moving in to a cashless society with over 10,000,000 debit cards and 500,000 credit card holders doing transactions a card based payment acceptance mechanism such as MOMO would generate larger business opportunities to SME sector and to top corporate entities to benefit from cashless transactions.

HNB Assurance, Kangaroo Cabs, Pizza Hut , Allianz Lanka, were the latest to sign up for HNB MOMO mobile POS applications and also joined the Mobile merchant solution platforms as they believed HNB MOMO will give them a business solution which opens doors to their customers to use credit or debit cards on the move.

HNB recently revamped its internet banking solution targeting the retail customer. The new solution is made more simple to operate with additional functionality and improved speed of access. The security features of the solution is further enhanced so that customers can engage in real time banking supported through two factor authentication.

These successful initiatives by the bank were identified through lean and agile structures placed in the Bank and also the investments on research and development in the tech-banking space since the bank had identified them as a significant value creator for all their customers.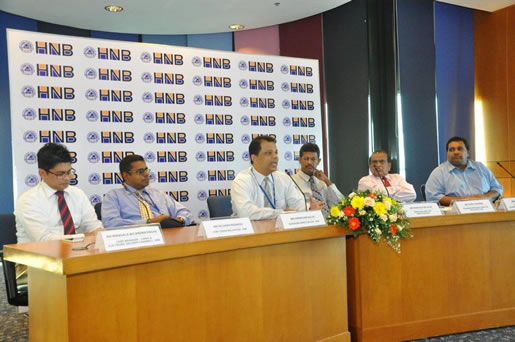 (from Left) Mangala Wickremasinghe, Chief Manager - Cards & Electronic Delivery Channels HNB , Dilshan Rodrigo - Chief Operating Officer, HNB, Jonathan Alles Managing Director / CEO, HNB, Manjula De Silva, Managing Director, HNB Assurance, Sunil Fonseka, Chairman / Managing Director, Kangaroo Cabs and Yasa Nadarajah Chief Executive Officer Gamma, Pizzakraft Lanka.