HNB Rewards Winners of Special April Promotion for Cash Payout and Account Credit Beneficiaries
Hatton National Bank (HNB) recently rewarded the prize winners of HNB's special remittance promotion held during April for cash payout and account credit beneficiaries. During this particular time period customers who received money to their account or to their hands through the 250 HNB customer centres around the country were eligible to win one hundred prizes of Rs 10,000/-, five prizes of Rs.100,000/- and the jackpot prize of Rs 1,000,000/-. The prize presentation was held recently with the participation of Mr Jonathan Alles, Managing Director/CEO, HNB and Mr Dilshan Rodrigo, Chief Operating Officer, HNB. Mrs Bridget Mercy of Negombo who received her Moneygram Remittance from the HNB Negombo Customer Centre was the lucky winner of Rs 1,000,000/-.

Y.P. Chandrasiri of Gampaha Customer Centre, Sivashanthy Sriragavan of Wellawatta Customer Centre, P Sridaran of Jampettah Street Customer Centre, Ajantharuban Gowdhamme of Trincomalee Customer Centre, and M.Wijayasiri of Udappuwa, Customer Centre were the lucky winners of Rs.100,000/- each.

Speaking on the overwhelming success of the promotion, Mr Kalum Wijesooriya Chief Manager - Inward Remittances & Exchange Houses HNB said Hatton National Bank is the Super Agent for Moneygram in Sri Lanka in addition HNB facilitates payments through Xpress Money, Ria, Sigue and HNB Cash Express. He said at the moment HNB was carrying out a special promotion for remittance beneficiaries for cash payouts. The promotion would continue till January 31st 2014 and 25 lucky winners would be selected who will receive a 40 '' LCD colour television each.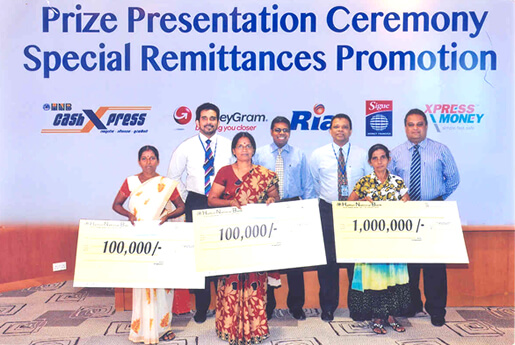 The Managing Director/CEO of HNB, Mr Jonathan Alles with the winners. (from left) Mr Kalum Wijesooriya, Chief Manager (Inward Remittances & Exchange Houses), Mr Dilshan Rodrigo, Chief Operating Officer & Mr Nishantha Weerasinghe, Senior Manager (Negombo Customer Centre) of HNB are also in the picture.