HNB opens its 250th customer centre amidst strong growth and new technological achievements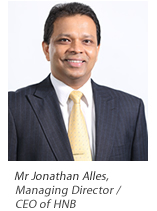 The Hatton National Bank (HNB) is very pleased to open its 250th customer centre in the town of Walasmulla in the Southern Province of Sri Lanka. This is the 25th customer centre that HNB will open in the South, demonstrating it's commitment to the people in the South and also aligning itself with the development efforts taking place in these parts of Sri Lanka, says Jonathan Alles, HNB's Deputy Chief Executive Officer (DCEO).

"Walasmulla presents us with yet another opportunity to serve the agricultural and trading communities, leveraging HNB's strong micro-finance and SME Banking capabilities, he said in an interview to mark the opening of the 250th customer centre of HNB, awarded Bank of the year in Sri Lanka by the prestigious Banker magazine UK.

The following are excerpts of the interview with Mr. Alles:

Q: Over the years, HNB has expanded its branch network significantly. Can you explain?

A: Over the past two to three years, HNB has cashed in on the peace dividend and ventured out to open more than 60 customer centres mainly outside the Western Province. With the new found peace, HNB has also played a pivotal role in supporting the development plans of Sri Lanka.

The culmination of the long-drawn domestic conflict offered tremendous opportunities for all banks to spread themselves by opening new customer centres in all parts of Sri Lanka and to promote inclusive banking. In particular, HNB opened around 20 customer centres in the North and East during this period to support the development in this region and to assist the people who had been deprived of basic banking needs for a long period of time. The total number of customer centres in the North & East regions as at 31st March 2013 is 44.

Q: What's next?

A: With the opening of the 250th customer centre, HNB now has a well-spread, brick and mortar network. This means that HNB is present in all key towns and communities to assist the people of Sri Lanka with its wide range of products and services.

We are now going through a period of consolidation and making all these new branches profitable. To complement our brick and mortar network, HNB is driving its e-banking strategy to reach more places and people and to provide them with convenient banking.

The revamped internet banking solution went live in February 2013, while HNB's comprehensive Mobile Banking capability was launched at a glamorous event on March 14, 2013 at the 22nd floor Auditorium of HNB Towers.

The revamped E-delivery channels along with the new ATM Switch slated for implementation shortly will improve HNB's service delivery capability very significantly and, in turn, will provide our valuable clientele flexible convenient, 24x7 state of the art banking, with the choice to do their banking anywhere, anytime using multiple delivery channels.

Also, HNB's product development capabilities will be greatly enhanced, particularly in the areas of gift cards, travel cards, prepaid virtual cards, remittance products and other wallet based services enabling further collaboration with utility companies, insurance companies, schools, clubs, associations etc.

With new payees being added to the HNB network, our clients will have greater flexibility in making their payments through our electronic channels using HNB's payment gateway.

Q: HNB has invested substantially on new technology. What are your plans?

A: A significant investment has been made in the field of information technology in addition to internet, mobile banking and the new ATM switch. HNB also rolled out a new credit system for better credit evaluation, a more streamlined approval process providing better monitoring and control capability of the credit portfolio. In addition, a state-of-the-art Asset and Liability fund transfer pricing system was implemented towards the latter part of 2012 providing critical management information to assist top management and the Assets and Liability Committee in strategic decision making..

To support the branch network, a new Anti Money Laundering(AML) system is being tested at present along with a new leasing system slated for implementation shortly. These two systems will enhance profitability and efficiency in the network.

Q: HNB has clinched many coveted accolades in recent times including the Bank of the year in Sri Lanka for 2012 given by the Banker Magazine UK and the Best Retail Bank in Sri Lanka for the sixth consecutive time awarded by the Asian Banker Magazine.

A: We are very happy to be recognized as the Bank of the year in Sri Lanka 2012 and the Best Retail Bank for the sixth consecutive time. This is a result of careful planning and executing the bank's strategy over the past few years, which is paying rich dividends today.

We are also very grateful to our loyal customers who have been with us throughout this journey and pleased that we are able to make an impact on their lives with our services. Through all this change, there has been one constant factor and that's the dedication and commitment of our staff - the 'Hatna Family'.

Our staff along with our valued customers have played a key role in bringing HNB to what it is today. The journey continues as HNB in all humility and sincerity forges ahead with passion to partner in the progress of the people in Sri Lanka.