HNB Opens 248th Customer Centre In Veyangoda
Hatton National Bank opened the 248th Customer Centre in Veyangoda recently. The Chief Guest for the occasion was Mr Jonathan Alles, Deputy Chief Executive Officer of Hatton National Bank. A large number of senior bank officials, government officials, local businessmen and customers were present at the event.

Addressing the gathering Mr Jonathan Alles said that HNB is pleased to open the 248th Customer Centre in Veyangoda and that HNBs entry in to the bustling city of Veyangoda will support and facilitate small and medium enterprises, agricultural development and business enterprises in general while giving the people of Veyangoda a comprehensive range of banking products and services to choose from. Speaking further, Mr. Alles stated that over the last 5 years HNB has invested in developing a robust information technology platform which will bring the utmost convenience to the residents of Veyangoda when carrying out their day to day banking activity.

Hatton National Bank was named the Bank of the Year 2012 in Sri Lanka by the prestigious 'UK based Banker Magazine'.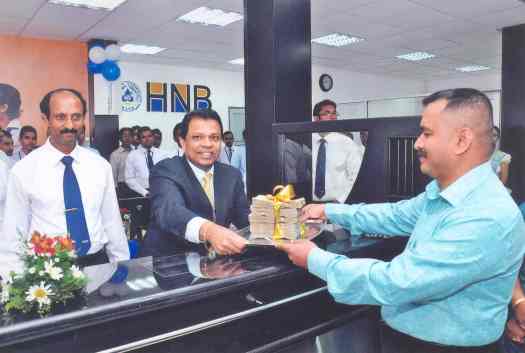 Mr Jonathan Alles, Deputy CEO of Hatton National Bank accepting the first deposit.