HNB MOMO and HNB Assurance formed a mutually beneficial alliance, in what could only be described as the most significant moment in recent history. The age-old customs associated with Insurance business was changed or rather modernised for the greater good of the people and HNB Assurance has incorporated this new age technology, paving the way for a future of cashless convenience.

HNB recently made history with its revolutionary unveiling of "HNB MOMO", becoming the first bank in Sri Lanka to introduce mobile POS technology to local businesses. HNB MOMO utilizes EMV technology enabling chip-based card acceptance, and therefore it provides equal opportunities and a low-cost mobile solution for large retailers, micro-level vendors and even professionals.

Throughout its illustrious 124 years, Hatton National Bank has always continued to raise the bar and it has garnered a reputation for its endless quest towards innovation; constantly reinventing itself and modernizing its products and services to provide a better customer experience. The introduction of MOMO complements a heritage built on innovation, while ushering in a new era of cashless convenience and card-based payment acceptance.

HNB Assurance PLC, a subsidiary of Hatton National Bank specialising in Life and General Insurance became the first company to embrace the new age of cashless convenience, HNB MOMO. This merger between HNB Assurance and HNB MOMO is a giant step forward for the insurance company, and it changes the entire landscape of insurance business in Sri Lanka. Now the insurance agent equipped with HNB MOMO comes to you to collect the premiums. Whether you are at a wedding or at your office, this provides customers with a higher degree of trust and confidence in the company, while ensuring their policy remains in force", said Lalith Fernando, General Manager-Marketing and Distribution, HNB Assurance. Traditionally customers paid their insurance premiums at the respective branches, and there was always the possibility of not having enough cash on hand at the time of payment. However, with HNB MOMO, customers can now make payments at their own convenience.

"According to our research there are over 10 million debit card holders and over 500 thousand with credit cards. This is a statistical representation of the adult population who can afford to pay their insurance premiums by card. So the decision for HNB to tie up with HNB Assurance could be considered as a match made in heaven, and this partnership is the first of many to come. HNB MOMO would be taken up by a majority of the transport sector and luxury cab services, fast food chains, supermarkets and even airlines", said Mangala Wickramasinghe, Head of Electronic Delivery Channels and Card Centre. HNB's large network of over 250 customer centres island-wide make it easily accessible for all merchants to withdraw funds and conduct all their other banking services as well.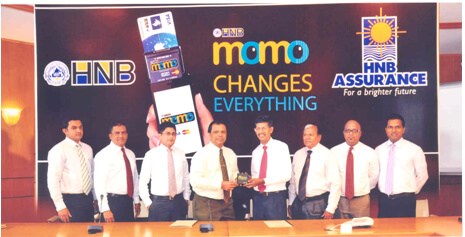 HNB, Managing Director/CEO, Jonathan Alles exchanging the agreement with Manjula De Silva, Managing Director, HNB Assurance. (from Left) Sandun Hapugoda, Manager-E-Banking, HNB, Roshantha Jayatunga, Manager-Card Centre, HNB, Mangala Wickremasinghe, Chief Manager-Cards & Electronic Delivery Channels, HNB, Lalith Fernando, General Manager-Marketing & Distribution, HNB Assurance, Namal Gunawardna, Head of IT, HNB Assurance and Dilshan Perea, Head of Marketing, HNB Assurance