HNB & Indra Traders teams up to promote FOTON Brand vehicles & Japanese Reconditioned Vehicles
Hatton National Bank PLC the market leader among the banks to provide leasing facilities and Indra Traders the leading motor vehicle importer has once again got together to offer the best ever Leasing package for FOTON brand Vehicles.

HNB was the first bank to venture into the leasing business and has a proven track record of offering the best leasing packages to their customers. HNB leasing customers can enjoy a range of linked financial services from the bank, when obtaining a lease from more than 250 HNB Customer centers located islandwide.

During the promotional period HNB will offer the lowest ever lease rentals to customers who opt to buy FOTON Trucks with added benefits such as a Pre-approved credit card without joining fee, a free life insurance cover for Rs.1.2Mn etc. To make this an unrivalled package HNB Assurance PLC has offered a comprehensive insurance package for HNB customers at an incomparable premium and also with an option of making the insurance payment in interest free installments through HNB credit cards.

Indra Traders together with HNB have made FOTON the best-selling Chinese truck in Sri Lanka and has introduced a new range of small trucks. During the promotion period Indra Traders will offer attractive value additions exclusively for HNB Leasing customers which include a price reduction, free 1st year comprehensive insurance cover for FOTON BJ1010 & BJ1028 models, free vehicle registration for all other FOTON brands, 1st service free of labour fees and also with a complete warranty upto 50,000km or 1 year from the purchase.

Customers may inspect and reserve FOTON vehicles from the islandwide branch network of Indra Traders while obtaining leasing facilities with a minimum down payment from any HNB Customer Center located in the country.

This exclusive offer will be valid only for a limited period. For further details please contact the nearest HNB Customer Center or the HNB Leasing Division on 011 2661788 or Indra Traders on 081 2236748.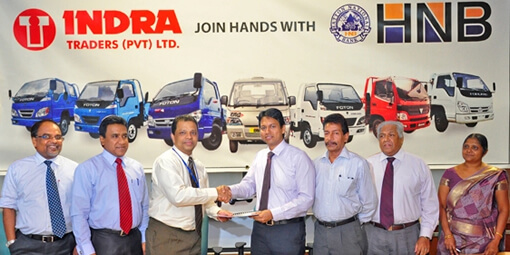 From left: Mr. Hiran Perera, Senior Manager HNB Leasing, Mr. R M P Dayawansa, Assistant General Manager, Personal Financial Services HNB, Mr. Jonathan Allas, Acting Chief Executive Officer/Executive Director, HNB, Mr. Rushanka Silva, Managing Director Indra Traders, Mr. Athula Silva, Director Indra Traders, Mr. Sunil Fernando, Group General Manager Indra Traders, Mrs. Dharma Illangasinghe, General Manager Marketing & Business Development, Indra Traders