HNB Focuses on "Growth" And "Protection" for World Environment Day
Commemorating the World Environment Day for the 5th consecutive year, Hatton National Bank PLC (HNB)has distributed 25,000 plants amongst its "Singithi" minor account holders.

HNB has always lead from the front in creating awareness and on promoting good environmental governance and practices it in day to day activities. The Bank encourages and ensures that its stakeholders understand their responsibility, and their power to become agents of change in support of sustainable and equitable development through the HNB Green Pledge. The Green Pledge was introduced on 5 June 2009 to coincide with the World Environment Day celebrations. As World Environment Day is a day for people from all walks of life to come together to ensure a cleaner, greener and brighter outlook for themselves and future generations, the Bank has always engaged its staff, customers, and school children to greening the surroundings by planting trees and donating saplings to commemorate this day.

With the initiatives for 2013 HNB would have planted nearly 70,000 trees in all parts of the country.

HNB had arranged to donate saplings through its wide spread branch network. The saplings were distributed to"Singithi" minor account holders at every branch on a first come basis.

HNB had also organized an awareness programme on environment protection by Mr Mahesh Jaltota, Assistant Director, Waste Management - Central Environmental Authority for 750 children at the Visaka Vidyalaya Colombo.

Speaking to the press Acting CEO Mr Jonathan Alles commented that "HNB has always been concerned with the sustainability of all its activities. It is important to ensure that the plants are nurtured to fully grown trees for us to realize the fullest benefit. Therefore in recent years we have engaged our staff, customers and school children who share our concerns and have taken responsibility to nurture the plants. This year we wish to emphasis the importance of growth and a secure future for our children. By donating saplings to our "Singithi"minor account holders we wish to inculcate the habit of savings and cultivate an attitude of "looking ahead" by patiently watering and nurturing the plants, so that as they attain their majority they would have cultivated the habits of financial responsibility and environmental responsibility as well as have saved for their higher education / self employment etc. In this connection we also hope to engage with their parents and guardians to emphasise the importance of saving to secure the child's future."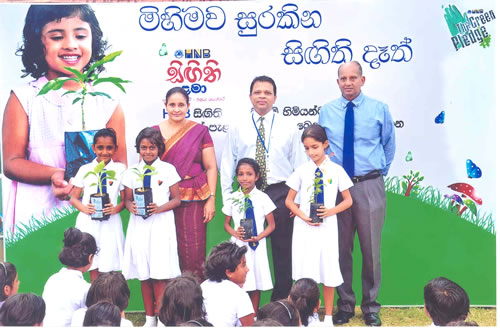 Mrs Sandamali Aviruppola, Principal of Visakha Vidyalaya, Colombo, Mr Jonatrhan Alles, Actg. CEO/Executive Director, HNB and Mr Mancius Paiva, Deputy General Manager - Strategy & Compliance, HNB with the school children.