HNB Finances 15% of Mega Broadlands Hydro-Power Project to add 35 MW to the National Grid
Continuing its pivotal role in funding Sri Lanka's vital infrastructure development, Hatton National Bank (HNB) recently tied up with the Ceylon Electricity Board (CEB) to partly finance the ambitious Broadlands Hydro-Power Project, which will add 35 megawatts (MW) to the national grid.

The construction of the Broadlands Power Station has been given high priority since is it renewable energy which is imperative for the development of the country.

85% of the project will be by way of a loan from the Government of China, while the balance 15 % as a loan from HNB. The CEB signed loan agreements with ICBC Bank, China and HNB in this regard in Colombo recently.

The dam will be constructed in Kitulgala in the Kegalle District using the Kelani River and the power plant will be constructed in Yatiyanthota in the Kegalle district. The dam will be 24 metres in height and 114 metres long. The tunnel of the complex will be 3.5 kilometres long and 5.4 metres in diametre.

"One key area of HNB's expertise is funding the country's infrastructure development projects by providing commercial loans under strategic tie-ups, said Ms. Ruvini Thenabadu, Deputy General Manager, Corporate & Wholesale Banking.

She also stated that, "Apart from funding power projects HNB has also moved into other spheres of infrastructure development in Sri Lanka". "We have even funded the building of roads by the Road Development Authority (RDA)". She further went on to say that HNB, also head the syndicate of 4 banks, to finance the proposed modern complex which will house the Department of Immigration and Emigration and the Department of Registration of Persons at Battaramulla. Work on the proposed complex is now continuing, and emphasized that 'It will be a state-of-the-art facility with modern conveniences".

Ms Thenabadu also stressed that HNB's contribution towards the overall objective of achieving economic progress through infrastructure development is significant. HNB has either done or are in the process of handling many projects which are of immense value to the country and the bank has been actively involved in financing diverse projects relating to healthcare, water, agriculture, railways and whatever considered important. In doing this, our bank primarily looks at the corporate banking aspect.

She went on to say, "In the power projects segment, our key area of concentration is renewable energy and since a lot has been done on the hydro-power front, we are venturing more into wind power and waste to energy projects".

"Of course, hydro-power projects, whether big or small developed by small timers and large corporates, have been of immense interest to HNB because it is an area the Bank has been concentrating for a long time", she explained.

Ms Thenabadu added, "We are also looking at new areas of renewable energy for funding such as waste to energy, bio mass and solar power projects. Since waste to energy and bio mass highlights responsible waste disposal which is in line with the bank's CSR policy, we are looking at possible ways in which we can support this area. HNB has already funded wind projects along the Norochcholai-Puttalam belt as well as Hydro power projects , and there are several such projects under consideration for funding, and we are looking at all aspects before venturing out to finance them".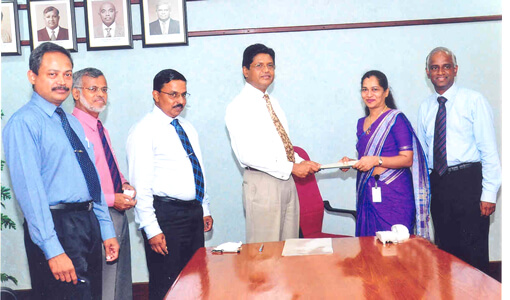 W P Ganegala, Chairman - Ceylon Electricity Board and Ruvini Thenabadu, Deputy General Manager - Corporate & Wholesale Banking of HNB exchanging the agreement. From left Dr Kamal Laksiri, Project Director - Broadlands Hydro Power Project, F K Mohideen, General Manager - CEB, K I Kularatne, Working Director - CEB and Arjuna Ratnasabapathy, Assistant General Manager - Corporate Banking of HNB.