HNB bags MoneyGram Award for "Special achievement in Brand building ICC T 20 World Cup 2012 "
Hatton National Bank Plc, popularly known as HNB a pioneer in the field of handling inward remittances of the expatriate Sri Lankan work force has established itself as a formidable force in this sphere in the Sri Lankan banking sector.
With correspondent arrangements worldwide, HNB has provided legitimate channels in bringing home much valued earnings of Sri Lankans employed overseas as well as Sri Lankans now domiciled overseas who remit to their kith and kin in the island.
Since 2008 HNB has been the Super Agent in Sri Lanka for MoneyGram and have been rewarded on many occasions for service quality.
At the recently concluded conference held in Jodhpur, India for all MoneyGram agents in South Asia, an award "Special Achievement in Brand Building ICC T-20 World Cup" was presented to HNB.
This is the forth award HNB has received from MoneyGram over the years.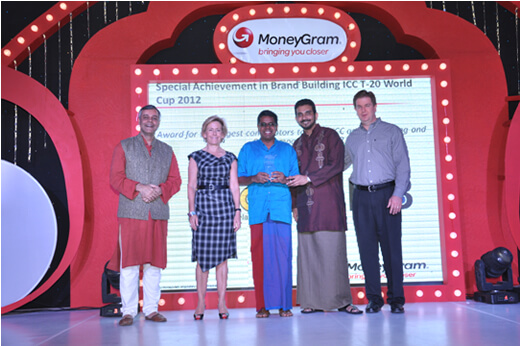 Picture:(Left to Right) Mr Harsh Lambah - Senior Regional Director, South Asia MoneyGram International, Ms. Pam Patsley - Chairman and CEO, MoneyGram International. Mr Dilshan Rodrigo, Deputy General Manager (Retail Banking), HNB, Mr Kalum Wijesooriya, Chief Manager (Inward Remittances & Exchange Houses), HNB, Mr Jeff Allback - Executive Vice President Chief Information Officer, MoneyGram International .