HNB and Allianz Lanka introduces cashless payment solutions
Allianz Lanka, the fully owned subsidiary of the global insurance giant Allianz S.E introduced cashless payment solutions powered by HNB's state of the art cash management solutions to its growing customer base. The world renowned Allianz became the latest organization to sign up for the HNB MOMO mobile POS applications and also joined the HNB E banking platform as a payee partner. Allianz has a reputation for consumer centric approach and cashless payment solutions through HNB MOMO will further enhance their service offering.

For over a century Hatton National Bank has lead the way as a trend setter in the banking industry with its impressive line of innovative products. HNB MOMO pays tribute to this long lineage of innovation, and modernizes traditional business operations. HNB has become the first bank in Sri Lanka to introduce EMV technology which allowed chip -based card acceptance, making this a move which changes how business will be handled for years to come. HNB MOMO involves the usage of a mobile POS technology. This new ground-breaking innovation creates fair opportunities at a reasonable price for all businesses; from the largest retailer to middle level businessmen to even professionals. HNB MOMO ushers in a new era, free from "cash only" restrictions, making customers confined to slow moving queues or inefficient checkout counters a thing of the past.

Dineth Ediriweera, General Manager- Finance at Allianz Lanka said "We are pleased to partner a premier bank in the country to offer HNB MOMO cashless payment solution to our ever expanding customer base. Our customers increasingly look for convenience and we have opened an array of options for them to pay respective insurance premiums. Also, with HNB MOMO, now our sales staff possesses the ability to carry out insurance transactions at a place convenient to our customers. Further, HNB E- platform provides convenience to our customers to engage in insurance transactions at finger tips. Allianz places special emphasis on digital assets to assist our customers and staff a like to harness business relationships".

Speaking on this occasion Mangala Wickramasinghe, Head of Cards and Electronic Delivery Channels of HNB said, "We have done extensive research which revealed a majority of the adult population are in possession of debit and credit cards. In other words this means they can afford to pay insurance premiums by card if such a facility was made available to them. The policy holder receives the benefit of this new age technology, where they can make payments from the comfort of their own space. Taking the relationship a step further Allianz Lanka joined HNB E Banking Platform as a payee partner, which enables the HNB customers to make payments to their Policies by directly debiting theirs accounts through Internet and Mobile banking from anywhere in the world 24*7. Furthermore walk- in customers are able to make payments for their policies over the counter at any one of the 250 HNB customer centers island wide. Allianz Lanka is yet another organisation in tune with evolution, and sharing a similar vision of an era of cashless convenience".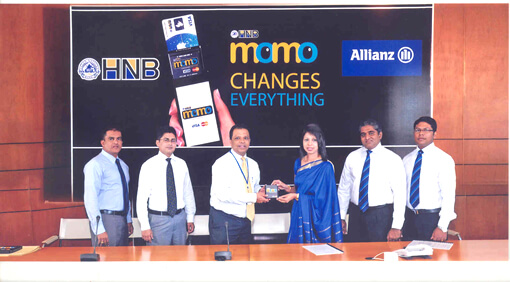 HNB, Managing Director/CEO, Jonathan Alles exchanging the agreement with Surekha Alles , CEO, Allianz Lanka (from Left) Roshantha Jayatunga, Manager - Card Centre, HNB, Mangala Wickremasinghe, Head of Cards & Electronic Delivery Channels, HNB, Dineth Ediriweera -General Manager- Finance , Allianz Lanka and Rajesh Kumar - Manager Life Accounts , Allianz Lanka.