Get ahead with "HNB One" - the first NFC-enabled multi-function payment card in Sri Lanka
The first bank to launch a combined NFC-enabled pre-paid & VISA International Debit Card in Sri Lanka
Sony Felica - The market leader in NFC enabled payment card technologies partners as the official technology provider
"HNB One" to facilitate E-bus ticketing project in Sri Lanka
Global giant, Bharti Airtel Lanka - Connectivity partner to the project
Smart Metro to provide the NFC enabled bus ticketing machines
Hatton National Bank recently launched HNB One, a NFC (Near Field Communication) enabled card to strengthen the multi-channel banking strategy the bank is pursuing. The NFC-enabled "combo" card will facilitate speed in transactions and can be used at fast checkout counters for greater customer convenience. The multiple applications include toll payments in the transport industry, drive-thru areas of fast food outlets and fuel stations to name a few.

Dilshan Rodrigo COO, HNB mentioned that "HNB One" is one card that will serve multiple purposes - an ATM Card, Debit or Shopping Card and in the future an access control card all in one which relieves customers from carrying many cards, hence lighter on the purse. The transaction process is simpler with a quick "tap and go" functionality of NFC cards. HNB has obtained approval from the Central Bank of Sri Lanka to embark on this project. Keeping in line with HNB's strategy to develop the NFC infrastructure in Sri Lanka, the bank will also support payment card acquiring by replacing its extensive Point of Sale (POS) network with NFC-enabled machines for merchants in the near future.

"HNB One" is also the first combo card to be launched in the market where customers can access their savings and current accounts at HNB plus their prepaid account for fast check out payments. Fund transfers can also be made between normal accounts and prepaid accounts through the extensive ATM and branch network. HNB is delighted to collaborate with Bharti Airtel, Smart Metro and Sony Felicia on this national level initiative of e-ticketing for buses. This pilot project will commence with long distance buses in the Southern Province, operating under the Matara Passenger Transport Company Ltd.

HNB has chosen to work with partners based purely on their technological and business capabilities, including Smart Metro, who boasts years of experience in the research and development of NFC-enabled bus ticketing. Their technical expertise has been unmatchable by their competitors. Chandana Wijesooriya, Director, Smart Metro stated that Smart Metro was a software application development company specialized in near field communication (NFC) technology, based in Sri Lanka with a highly qualified team of software development engineers, having an alliance with SONY Cooperation FeliCa division, as the vital promoter of Sony FeliCa technology and products in Sri Lanka and would contribute in the HNB's NFC enabled Visa International debit card project as the supplier of NFC enabled terminals.

Bharti Airtel, a leading global telecommunications company with operations in 20 countries across Asia and Africa will partner the initiative as the total connectivity enabler. "As an organization that changed the landscape of telecommunications in Sri Lanka, it has always been our ethos to change the ways in which businesses operate. By being the connectivity solutions partner of these projects we are once again going to create history by changing the landscape in which payment cards operate, for the betterment of every Sri Lankan." stated Suren Goonewardene, Chief Executive Officer/Managing Director, Bharti Airtel Lanka. "Being part of the fourth largest telecommunication operator in the world in terms of subscribers, Bharti Airtel Lanka has the capability and capacity to bridge technological gaps and introduce the latest, global technologies to Sri Lanka. This project is the first of many more related projects to be launched by Bharti Airtel Enterprise. The introduction of electronic money is the first ever service that offers customers the convenience of making fast checkouts through their NFC enabled debit card, eliminating the risk of carrying cash, while the merchants will now be able to manage their services efficiently and economically," Goonewardene further added. "For Bharti Airtel Lanka, being associated with this venture is in line with our constant endeavor and commitment to introduce services that are current, innovative and relevant for customers. While we believe that this will contribute positively towards the development of the national infrastructure and economy in Sri Lanka we hope all Sri Lankans would reap the benefit from this venture as we strive to enrich their lives with modern technology and convenience." Goonewardene concluded.

The President of the Matara Passenger Transport Company Limited, Aruna Halpage while commenting said, "We are absolutely delighted that Hatton National Bank has introduced a single card, which could be used for commuting as well in their day to day transactions such as ATM cash withdrawals & other purchases. The "HNB One" card will make passenger's lives a lot easier, help private bus owners, their conductors and drivers to manage their transactions better, minimize any financial malpractice that would occur when money is physically handled and will hugely benefit us overall"

Sony will be providing the NFC technology through their FeliCa contactless IC card technology, the market leader in the NFC industry. HNB was keen to select this technology due to its superior security features and wide range of applications. "The technology used has never been compromised at any point, anywhere in the world" mentioned Mr. Mangala Wickramasinghe, Head of Payment Cards and Electronic Delivery Channels of HNB. "The bank's first priority was providing a secure, safe and an authentic transaction platform for its customers."

Sony FeliCa in their message stated " The SONY Cooperation FeliCa Division is excited to be able to reach the people of Sri Lanka through HNB s latest product NFC Debit card Known as "HNB One" , We are sure it is the first in South Asia if not first in Asia.

FeliCa division is proud to introduce its Near afield communication "FeliCa card" with highest security and encryption standards as per the NFC forum of 2004. This card will have secure wireless communication technology operating at 13.56 MHz over a short distance of about maximum 10CM , giving greater transaction speeds ,0.1 seconds or less to complete reading and writing the data in to the card with highest encryption standards.

To day where ever you go in the worlds leading capitols cities whether at train stations or bus stations or at convenient stores , you will see people enjoying the ease of making payments simply by holding out an IC card over a reader /writer. This contact less convenience is made possible by SONY s FeliCa contact less IC card technology.

The card is suitable for high volume of transactions making it environmentally friendly ,therefore the word "Felicity" suggesting that the technology will make your daily lives more convenient and enjoyable. We are excited to provide our latest product to the banking sector, through our vital partner for the territory in Sri Lanka "Smart Metro Pvt Limited. And we are committed to provide technology transfer, and continue to update them with our latest products with respect to Near Field Communication aspects.

We congratulate HNB bank for talking this initiative to introduce this latest technology and for been the first bank in Sri Lanka.

We wish HNB and their loyal customers Happy sailing with NFC and we wish HNB will reach greater heights in Sri Lanka.

Mangala Wickramasinghe, Head of Payment Cards & Electronic Delivery Channels at HNB further mentioned that "HNB One is a carefully thought-out strategic initiative to adopt NFC technology to provide our customers with more choice and convenience. This all-purpose card is the equivalent to carrying several cards and can also be used on Visa's worldwide payment network. With "HNB One", Hatton National Bank will lead the drive towards innovation and new technologies in Sri Lanka's banking industry."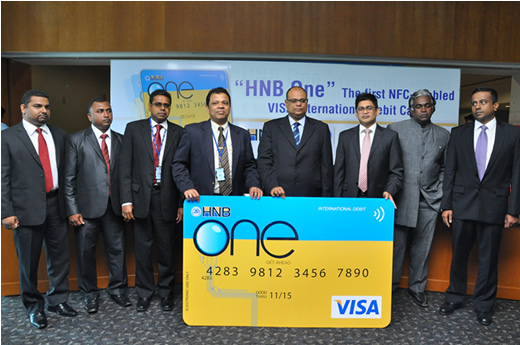 (from left) Mr Indunil Fernando, Deputy General Manager/Head Enterprise, Bharti Airtel Lanka, Mr Aruna Halpage, Chairman, Matara Passenger Transport Company Limited, Mr Dilshan Rodrigo, Chief Operating Officer, HNB, Mr Jonathan Alles, Manager Director/CEO, HNB, Mr Suren Goonewardene, Chief Executive Officer/Managing Director, Bharti Airtel Lanka, Mr Mangala Wickremasinghe, Head of Payment Cards & Electronic Delivery Channels, HNB, Mr Terrol Senanayake, Director, Smart Metro & Mr Sajeewa Hendawitharana, Director, Smart Metro at the launching ceremony of HNB One" - the first NFC-enabled multi-function payment card in Sri Lanka.